Welcome to Great Lakes Ultra Cycling!
New Faces, New Milestones!
The last few weeks have been a blur of activity. Some really notable things have happened!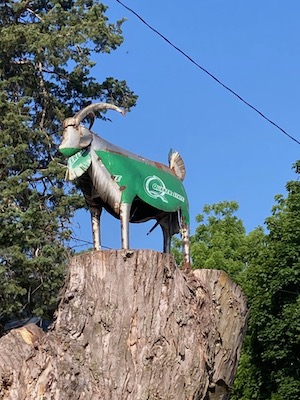 Our Psychedelic Eagle 200k had 12 riders and 10 of them were new to our club! Half a dozen riders set new distance records for themselves. Big Congratulations!
Jinwoo Oh finished the very difficult Fox and Hawks 600k as his first ever 600k finishing his first ever Super Randonneur Series
Sam Cora finished his first ever 300k with Todd Hoskins, one of our great volunteers
Kim Vanier, a brand new member this year, has finished the 200k/300k/400k - we are just waiting for her to tackle the 600k
And more
The club has had almost 100 riders this year so far. We have another month left then there will be some choices to make. We want to keep rolling in July and August and are looking for Volunteers. Contact us at info@greatlakesrando.org if you are interested.
All Hail the Turtle!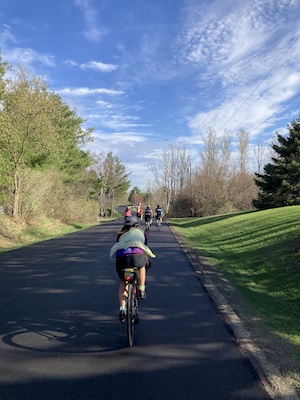 What a great ride on a spectacular day! Despite early forecasts for rain, the day wound up being an abnormally wonderful weather day. We started dry at about 60 degrees and went into a sunny afternoon with just a few sprinkles and the 80s! The thunderstorms did eventually manifest at night, but everyone holed up on a porch to ride it out and there were no issues with all 9 riders finishing. Among the notables..
Kim V finished her very first 300k
Jay R finished his first 300k
We had a big cadre of GLR die-hards including Kingston, Chuck, Lena, and Todd as well as Jin who we have all watched grow from his first century with our club a couple of years ago. All 9 riders were following up on the Barrington Boomerang 2 weeks ago.
We have 2 super rides coming up! Our Evanston-Bully Valley 200k returns for the first time since 2019. This features the Fox River and Prairie Trails and has a fun finish at Temperence Brewery. The next week is the Psychedelic Cow 400k out of Woodstock. The bridge at Attica is out so this year we are taking the northern route out of New Glarus.
If you are thinking of coming, sign up now and get your reservations - it really helps us plan our volunteers to know how many are coming as soon as possible. If you are interested in sharing a room, ask on our Facebook page or send us a message on the site. These are truly special rides. See you soon!
An Opening to Remember and more to come!
April 1 is the earliest brevet our club has ever had. With the threat of sleet, highs in the low 40s and some epic wind, nearly everyone that signed up came and had fun! We welcomed many new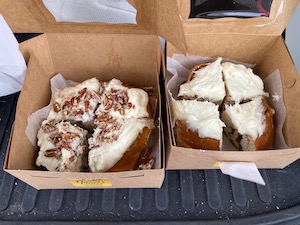 members and celebrated the return of some old faces. The Barrington Boomerang was a resounding success with fresh cinnamon rolls from Hazel's newly opened Stella's Sweets and Eats in Hebron provided a serious refuge (and some truly epic hot dogs and potato soup). Riders teamed up for a 15-20 mph headwind all the way to Darien then celebrated an epic tailwind to the finish and pizza party at Morretti's.
Next one up is the Psychedelic Turtle 300k out of Woodstock on April 15th. This is a stunning route that Michele is driving herself this weekend just to make sure all the roads are clear. We are crossing our fingers on the weather! Hope to see you soon. With so many rides, there's no reason to head out of town. Hills or rolling, we will get you trained up in no time.
Welcome 2023!
It's been a challenging winter and a puzzler to get our season lined up but at last it is done. 2023 is a Paris Brest Paris year. So we will focus more on providing a lot of brevets. No worries though, even if PBP is not in your plans, all are always welcome. From early April through June, there are opportunties to do 3 entire Super Randonneur Series all within our club.
For some, PTO and funds are short, so for that we have some additional help. We also want to grow our club! So bring your friends! Anyone new to the club will get their first ride for free! We have also done as much as possible to reduce prices and to hopefully provide options for overnights that are less expensive.
New Start!
Hebron - We have reformatted our lovely Lakes and Kettles 300k to start and finish in Hebron. Finish is at Hart's Saloon where your intrepid RBA will await your arrival.
The "Save my PTO" Brevet Week
Brevet weeks (doing the full series in 7 days) is a great way to finish off your training but it sure sucks the days off. We have a solution! Let's really load up both weekends and we can squeeze all 4 into 9 days with only 1 day off required (no promisess you will look good on Tuesday). It's right around the longest day of the year so at least there will be a lot of light
June 17 (Saturday) 600k starts at 4:00 am finishes Sunday night at 8:00 pm
June 19 (Monday) 400k starts at 4:00 am finishes Tuesday at 8:00 am
June 24 (Saturday) 300k starts at 6:00 am finishes Sunday 2:00 am
June 25 (Sunday) 200k starts at 6:00 am finishes Sunday at 7:30 pm
Bring your friends to win $350 Cash (or pay bills, appease your spouse, max out on pizza)
in 2019, we had the best attendance of any midwestern club. Let's make it even better this time. First, bring a friend who is new to the club and their ride fee is free (there's a nominal charge for our membership which is just to cover the club insurance).
Our club goal is to have at least 200 riders this year at the end of June. If we make our club goal, we will have a raffle with $350 in cash as a prize. For each ride you attended, your name is entered once. So ride as much as you like and increase your chances. Remember, if we don't make our club goal, we can't profit individually - in true randonneuring fashion, you need your friends to win
Let's make it our best year yet!
2023 Club Overview
Total Club Distance
19,467 Miles